The Bastards' commandments
11.04.19 / 18:35
You may not know that Bastardo is a cheap sleep hotel near in the centre of Madrid. Perhaps they haven't told you that we are a hotel that welcomes all those who decide to travel to Madrid with children, family, couple or backpack ready to travel throughout Europe. Or better yet, you have already planned your holidays in the coolest hostel between Malasaña and Chueca and you have very little left to sleep in our double or shared rooms.In this case, take paper and pen (or open the application of phone notes) and write down the "bastards' commandments" you need to know to squeeze your weekend in the city where many things happen.
We're bastards 
We want your experience here at the hostel and in Madrid to be as fun and comfortable as possible. Therefore, before stepping on Bastardo you should know these recommendations and, above all, the "bastards' commandments":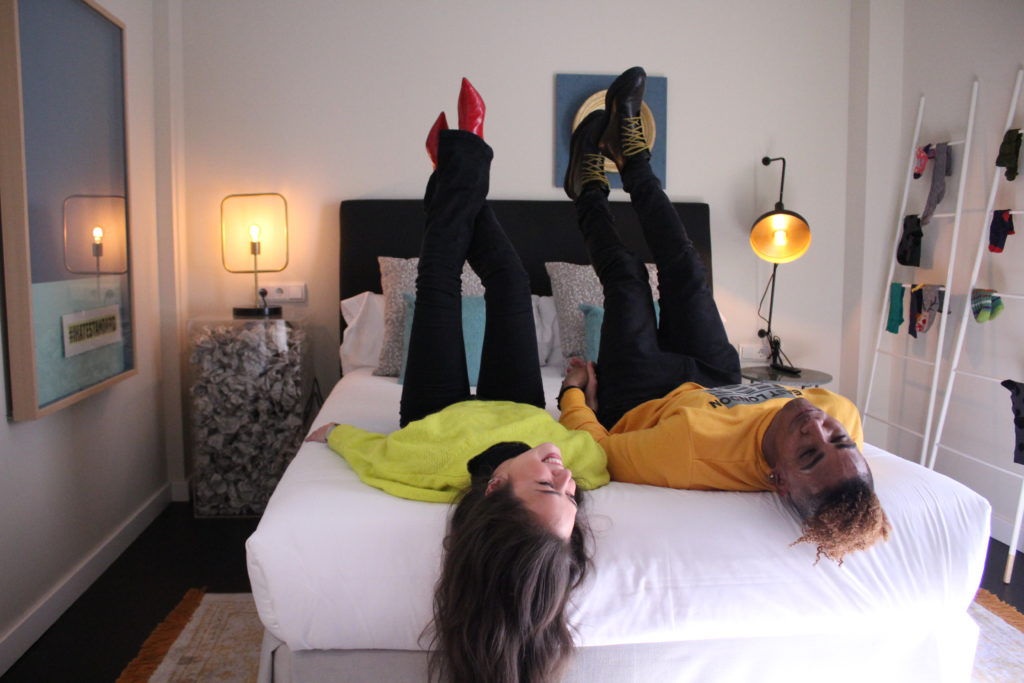 To the early bird, God helps him
Who doesn't get up early when they're on the road? Making the most of your holidays is one of the basic premises when it comes to travelling, and as you can imagine: Madrid is a great place to go. From making a route through the neighborhood with our electric bikes, visit the free museums near Malasaña or even make a tour of the vicinity of Madrid from our hostel. Remember: if you leave later than your check-out time, you pay. But remember that if you want to sleep one more hour, don't forget to let us know in time to have one more hour at check out.

Don't get wet
In reception you can rent super soft and spongy towels to dry your body. Just go down to floor 0 and ask our staff what towels you need. If you book a double room, a private family room or a shared room (full bunk), towels are included in the price of the accommodation. If you decide to book a bed because you have embarked on the adventure of travelling alone, don't worry. You can make a hole in your backpack because we rent you the towels - we want you to have every detail when you visit the hostel!
So your clothes are as clean as they are at home
You know that our bathroom is the king of Instagram and also lives with the laundry. In our hostel, apart from being close to Gran Vía and Sol, you have a washing machine so that you can live without worrying about staining your favourite clothes. And don't worry about hanging out your clothes, we have a super fast and efficient dryer. You know: while your clothes are being washed and dried, you can sit down to read a good book, the neighbourhood magazines or go up to the terrace to sunbathe. Come down to Basement -1 to do your laundry and buy the detergent at reception!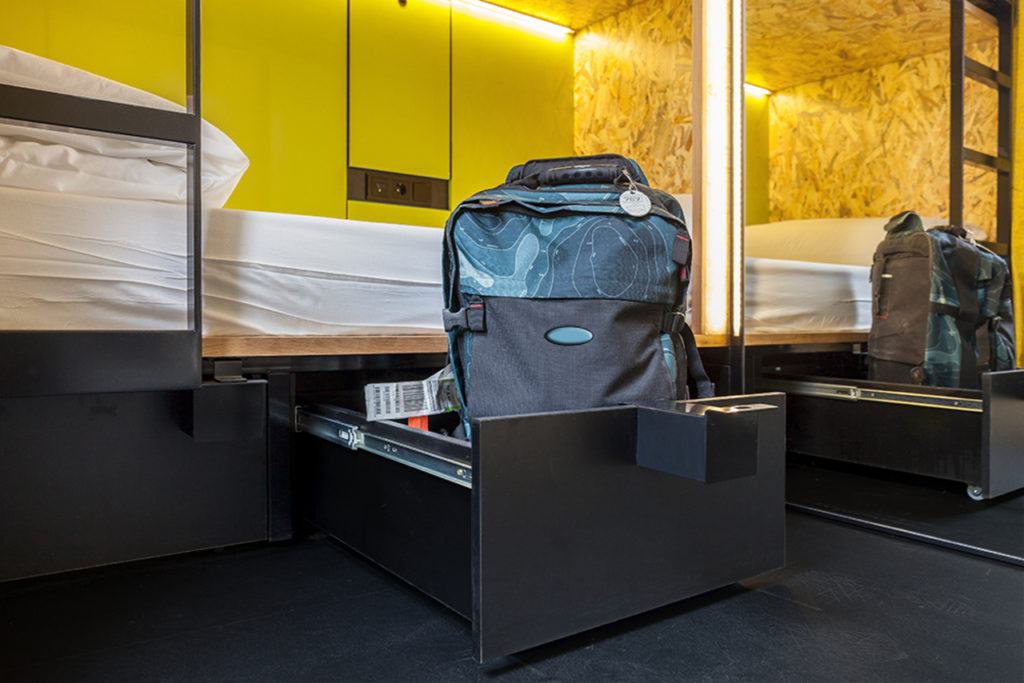 Under the bed you can keep your riches
In our hostel you won't be afraid to look under the bed. No monster lives. Your drawer will be there. The perfect place to leave your things. We recommend that you consult the measurements of the drawers of each room so that you have clear which suitcase to bring to Madrid. And if you don't want anyone to touch it, buy a padlock at reception. All you have to do is go over to the wooden table and ask our colleagues. We don't want you to worry about leaving your suitcase or backpack at the hostel while you have a few beers at our happy hour.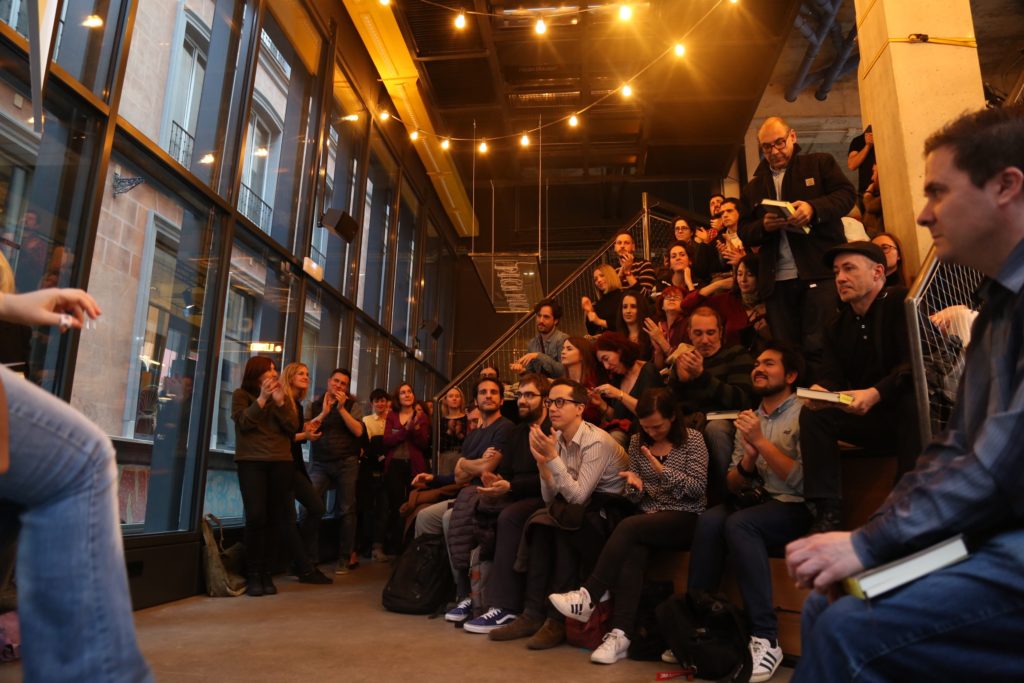 Don't lock yourself in, enjoy everything we have to offer.
A lot happens in Bastardo. You will check it once you enter through the revolving doors of the entrance. You won't know where to look because the whole space is full of small details that will melt your heart. Recommendation number 1: Don't lock yourself in the room and enjoy everything Bastardo has to offer. "Bastardo is a great meeting place: kitchenette, laundry, lobby, brewery, roof and much more". It's one of our bastards' commandments, don't forget it.
This is just the first kind of "bastards' commandments". Stay tuned because if you want to be part of the bastard family, you still have a lot to learn. However, be very calm because a bastard is born, but in Bastardo Hostel you can become one.P.S. If you subscribe to our newsletter from the web you can be part of "The Club of the Illustrious Bastards".
See you in the most bastard blog!