The hostel in Madrid for kids
15.08.19 / 09:12
Many parents are looking for hotels in Madrid for children, to make sure they can be comfortable. But what if, on top of that, both children and parents can be actually excited about their accommodation? This is what we offer you at Bastardo.
This is Bastardo
At Bastardo we pride ourselves on having rooms for everyone. A group of 6 friends? Welcome! A romantic getaway? Our double room with terrace is perfect. What if you are looking for hotels in Madrid for children? Our family rooms and our style will delight parents and children alike.Unlike some more traditional and typical hotels in Madrid for children, Bastardo is a modern and vibrant hostel. When you first enter, our original hall will surprise the little ones, who won't believe that this is the "hotel" they'll stay in. Love at first sight.In the hall is our atypical reception, where the barriers between guest and receptionist have been erased, so that the welcome is as close and warm as possible.No matter how old the children are, they will feel at home in our rooms, and we have something special for everyone. If they have already entered the Instagram era, they really shouldn't miss our laundry. We also have a bike rental service, so that the whole family can discover the capital from a different perspective. And if there is someone older (+18), they can join one of our Pub Crawl and meet people of their age from all over the world.In addition to all that, we also have a very complete schedule where the whole family can enjoy a free concert or storytelling workshop after spending the day exploring Madrid. Here you can see the next cultural events.Doesn't sound too bad, right?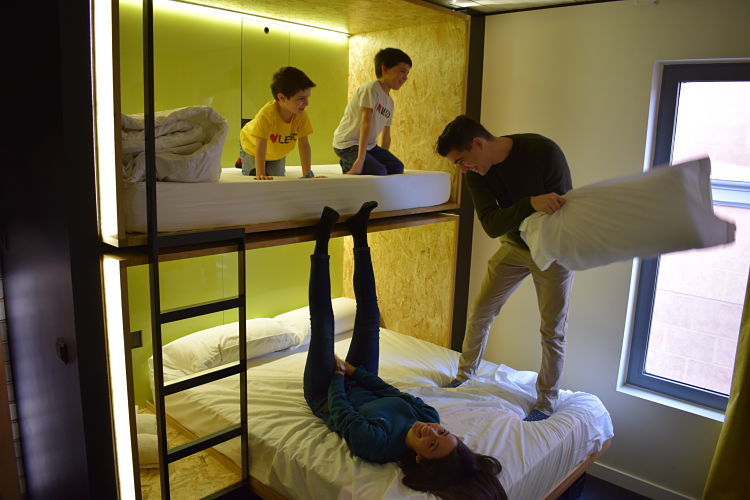 Our rooms for families
As you can see, we are not just a hostel to sleep in, because we offer a much more complete experience. But what about rooms for families with children?First, there is our family room for three. Normally, rooms for three people have an extra bed that takes up half a room and is uncomfortable. In Bastardo we have rebelled against this rule, and we have made a room for three that really is for three people, with a double bed and a single bed above.We also have the option for families of four, with a double bed and a bunk bed, separated so that everybody has some privacy. Like the previous one, it has a private bathroom with shower and towels included.If you are looking for a hotel in Madrid for large families, we also have options. Our room for 6 people can be booked in full. And best of all, the beds are orientated and designed so that everyone has their own space and privacy. Together, but not scrambled.Do you have any questions? We will be happy to help you at hola@bastardohostel.com or by calling (+34) 682 519 535 or (+34) 918 193 798.
We are waiting for you. Come without knocking!