Madrid bookstores to visit
22.04.19 / 18:05
If you love reading or have the guilty pleasure of smelling a newly purchased book, then Book Day is not just another day on the calendar for you. Madrid's bookstores get adorned with multiple activities and it's a good time to remember that book we fell in love with or the novel we never decided to buy.Bastardo was born last year with a huge event: La Noche de los Libros (Book Night) and Marwan's visit. And this year, we didn't want to miss it either. That's why, on Book Night, Luis Ramiro comes to Bastardo with his 'Metralla y Purpurina' recital and will also delight us with some of his songs. The singer-songwriter is the guest star this coming Friday 26th and we are very happy to be part of the program of Books Night one more year.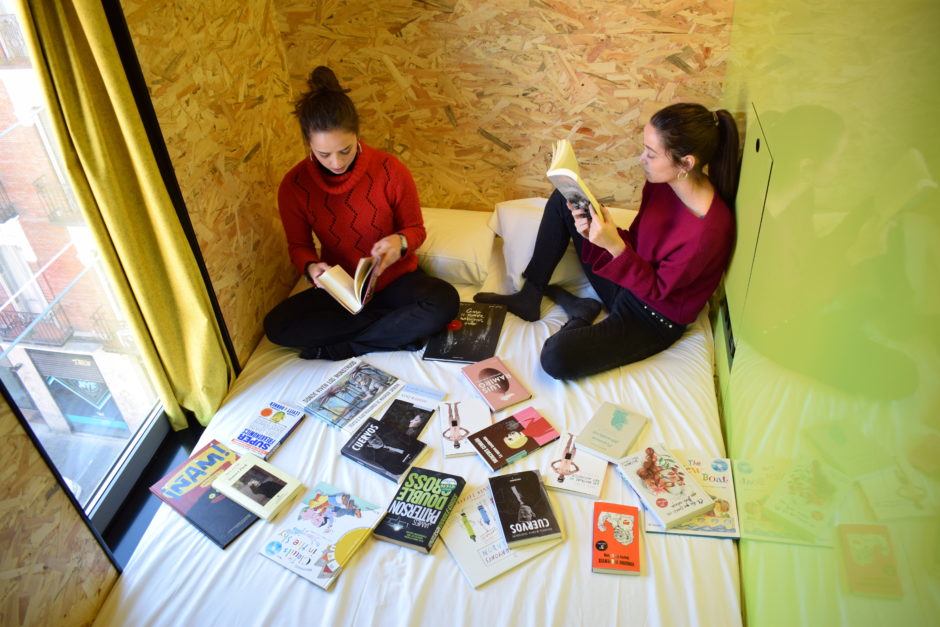 It smells like books 
We want all neighbors, guests of our hostel and even the people who are having a curious look around, to be aware of all the news. This year we want to help you celebrate Book Day 2019 by giving you the name of the coolest bookstores in Madrid, and also the neighborhood, which surrounds the most bastard hotel in the capital.
The most beautiful bookstores in Madrid
'Tipos Infames'. Books and wines.
Neighbors, friends and one of the most recognized bookshops in Madrid. All you have to do is cross Fuencarral street from our hostel and you will almost be in this peculiar space. It is one of those bookstores that are open today, tomorrow, the day after and the weekend. As they claim, they combine books and wines (and we love them for it). So, on Fridays and Saturdays you can stop by until 10.30pm at night to have a wine at the bar and take home one of their books home. They call themselves the "booksellers on call" and have a surprise prepared for Book Day.
# Address: San Joaquín street, 3
# Opening hours: open every day except Sundays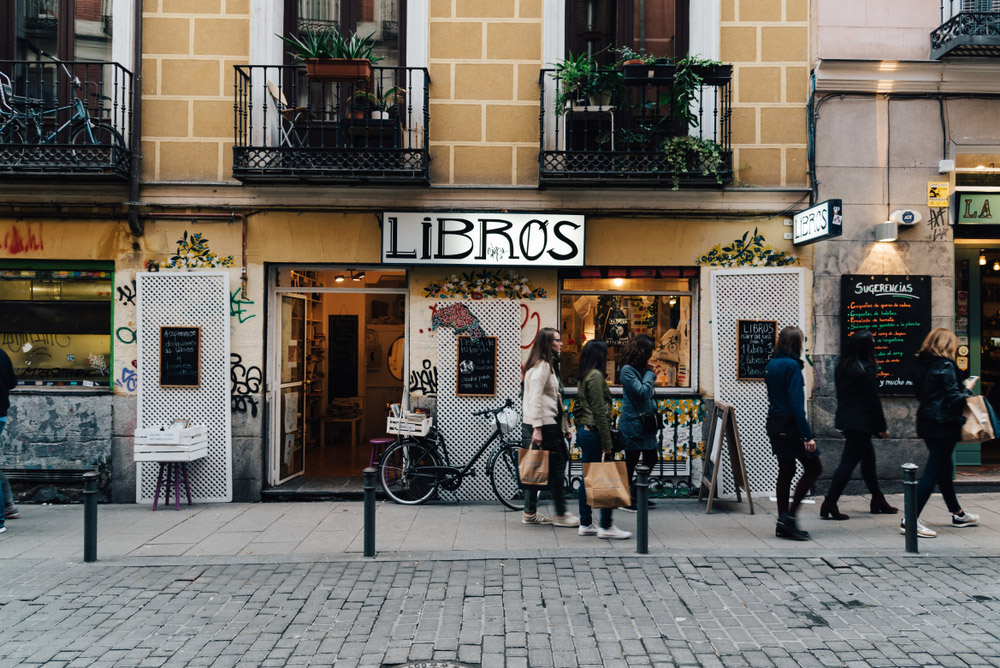 'Libros para un mundo mejor'
More than a bookstore, it is a literary space and one of the second-hand bookstores in Madrid. They run workshops, carry out activities and accept book donations. Used and read books deserve a second chance, or have you never borrowed a book from a friend? You'll also find magnets and postcards with messages that will make you fall in love if you're a fan of reading. Stop by before going down to the Plaza del Dos de Mayo for a walk.
# Address: Espíritu Santo street, 13
# Hours: open from Monday to Sunday
'Librería Bardón'
If you are looking to find literary treasures on your visit or trip to Madrid, the 'Librería Bardón' is one of the most beautiful in Madrid. Old books have slept there since it opened in 1947. To visit it you have to go to Callao. We recommend you to go on foot, as our hotel is very close to the centre and the walk is worthwhile. You can go thinking about what literary jewel you dream of finding there. Plaza de San Martín,3 awaits you with the 'Librería Bardón' open Monday to Friday.
'Arrebato libros'
They say they're a world-small bookstore, but we think they're huge. Their shelves full of poetry books or classics will appeal to you, believe us. The booksellers of Arrebato usually program tributes to authors with different activities and they will also do it on the occasion of the Book Day. On the 23rd they celebrate San Jordi's Day in the heart of Malasaña and they are one of those book shops that also open on Saturdays. You must go and visit it!
# Address: Palma street, 21
# Opening hours: open from Monday to Saturday
Panta Rhei
This bookstore is only a three minute walk from the hostel. But not only we are neighbours, we've collaborated in various activities and ideas. They will be the bookstore that will be with us in  La Noche de los Libros (book night) in Bastardo with 'Metralla y Purpurina', the book by Luis Ramiro. Go to Hernán Cortés street, 7 and find new book-shaped adventures in this cozy bookstore in Malasaña. They are open from Monday to Saturday so you can come by whenever you want.
Address: Hernán Cortés street, 7
Opening hours: open from Monday to Saturday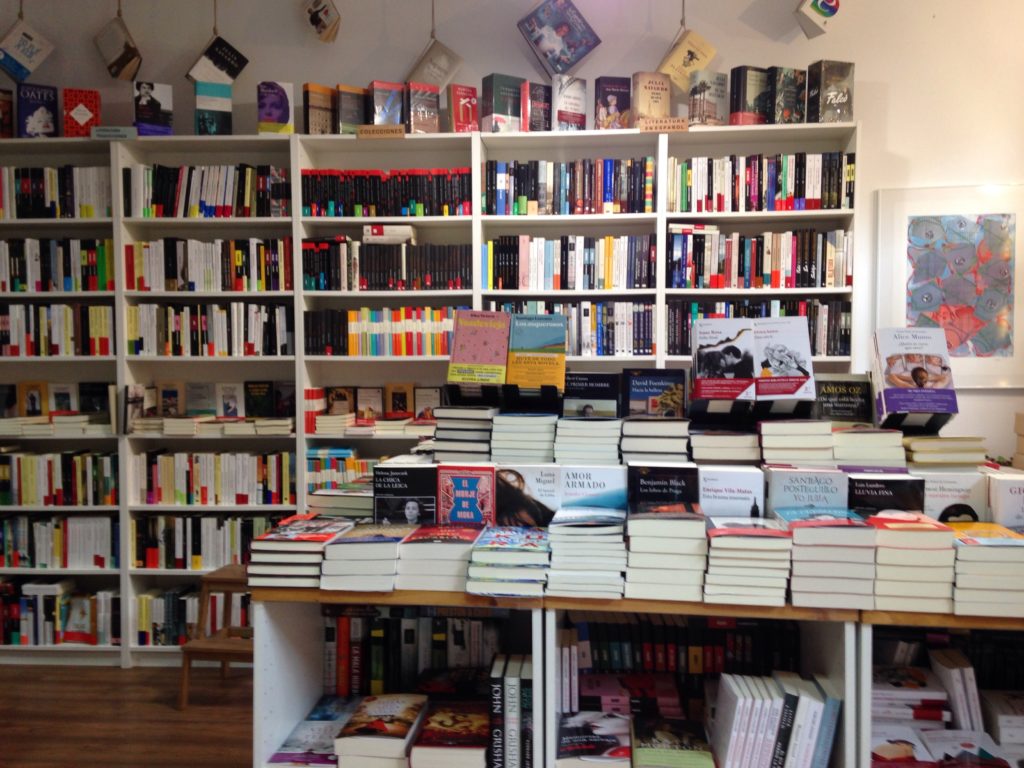 'Cientovolando'
Maybe you'll make it your coziest bookstore in Malasaña. It has a large library managed by booksellers and various spaces, both for children and adults. Its closing with the painted Metrópoli de Gran Vía building is a crush at first sight, but the best is waiting for you inside: books of all colours, covers and genres ready to fly away with you back to your city or home.
# Address: Divino Pastor street, 13
# Opening hours: open every day except Sundays
This is our list of bookshops and recommendations in Madrid and the neighborhood where we are located. There is no doubt that Malasaña breathes love for reading and smells of books and that's why in Bastardo we prepare activities related to literature. All you have to do is follow in the footsteps until you reach your book.The route begins on Book Day and ends at La Noche de Los Libros in Bastardo with Luis Ramiro and in other locations in the capital.
Happy Book Day 2019!