Abstract yourself in Bastardo
19.02.19 / 14:05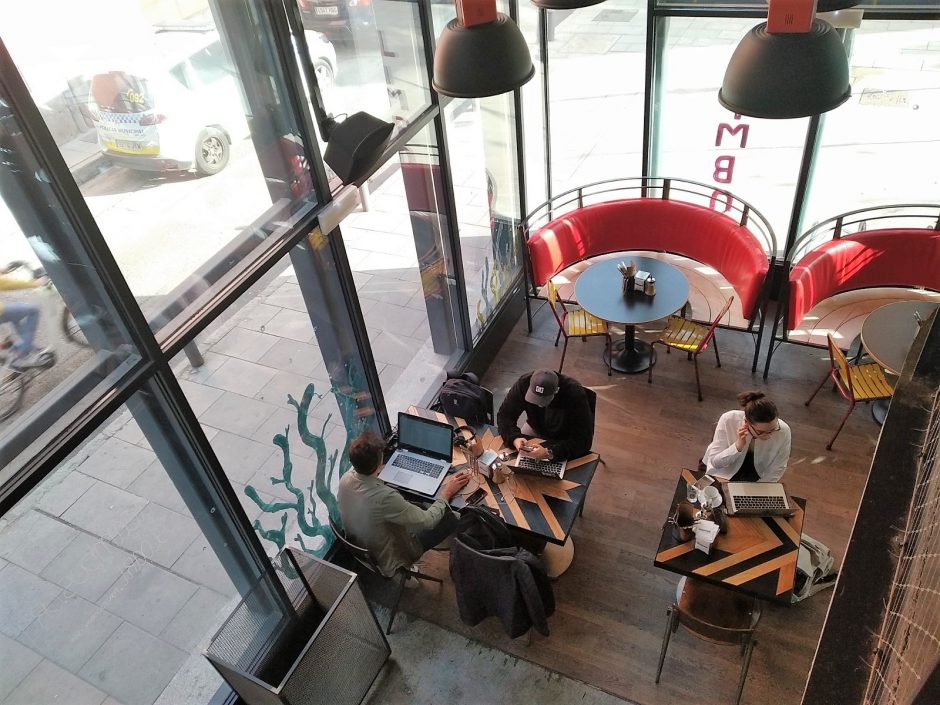 Are you freelance? Are you tired of monotony? Don't worry, at Bastardo we have the perfect space for your working days to become more lively. Furthermore, as we are located between Malasaña and Chueca, so you will have plenty of places to visit in your spare time. We consider ourselves a very fun coworking space in Madrid.What is coworking? This practice of going to work in certain places is known as coworking. It spread very quickly among U.S. freelances and a few years ago began to expand in Spain and Europe. They can be specialized places or you can simply work from a cafeteria. But if we are clear is that there are coworkings in Madrid at a good price.
You can find many of these spaces so that you can work calmly and concentrated. In the coolest neighborhood like is Malasaña, you will find the Impact Hub Barceló a few blocks from our hostel, where you will be able to enjoy your work like never before. You also have La Industrial, the Box Factory and El Patio Coworking if you want to know another part of the neighborhood to go to work.In Bastardo Hostel, we have several places in our place where you can come to work and have a good time with good music and atmosphere. Something that resembles coworking places is that we want the space and decoration to be somewhat "singular", leaving the typical office furniture, and to be a multifunctional place where you can develop other types of cultural activities.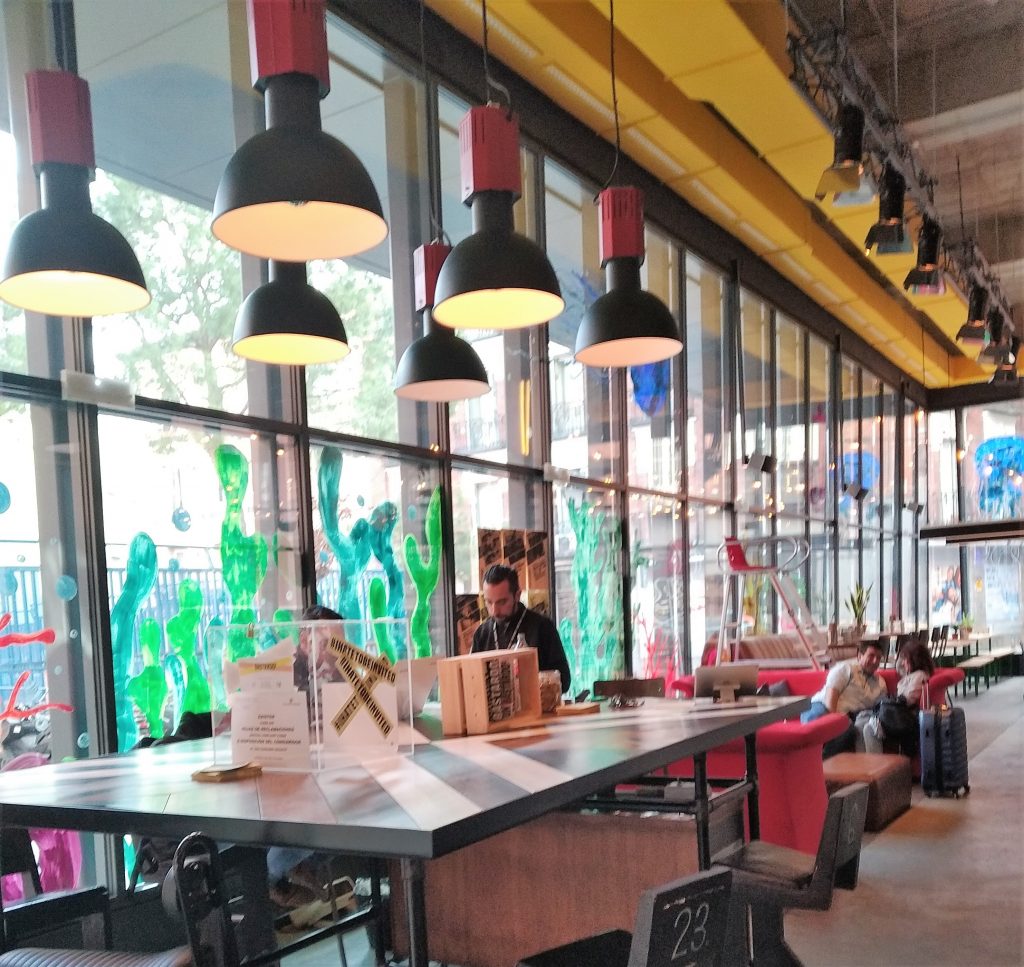 Do you know where you can concentrate on Bastard?
The Hall: Here you will not lack anything. First of all, you will have a lot of light thanks to our large window that makes the whole street shine and fill with colour. Spacious, luminous and full of life, it is our most multifaceted and special floor. Whether you are passing through or staying in our rooms, our hall is the meeting point par excellence.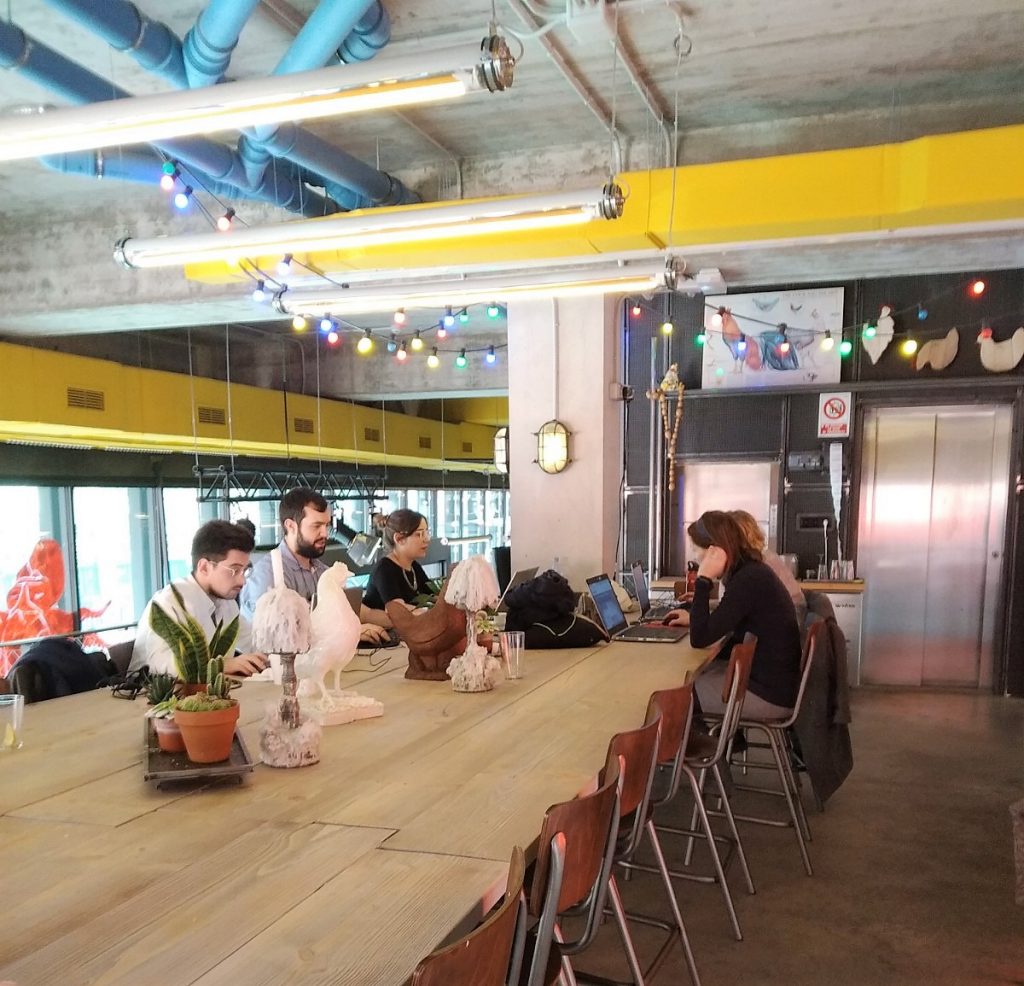 Loft: If you want more quietness and enjoy the hostel's views, come to the top of the hall. Go behind the Limbo Grill stairs, and from there you will be able to work concentrated and with good lighting as well. In addition, you have connectors and plugs in case one day you go out on a hurry, that you do not miss anything.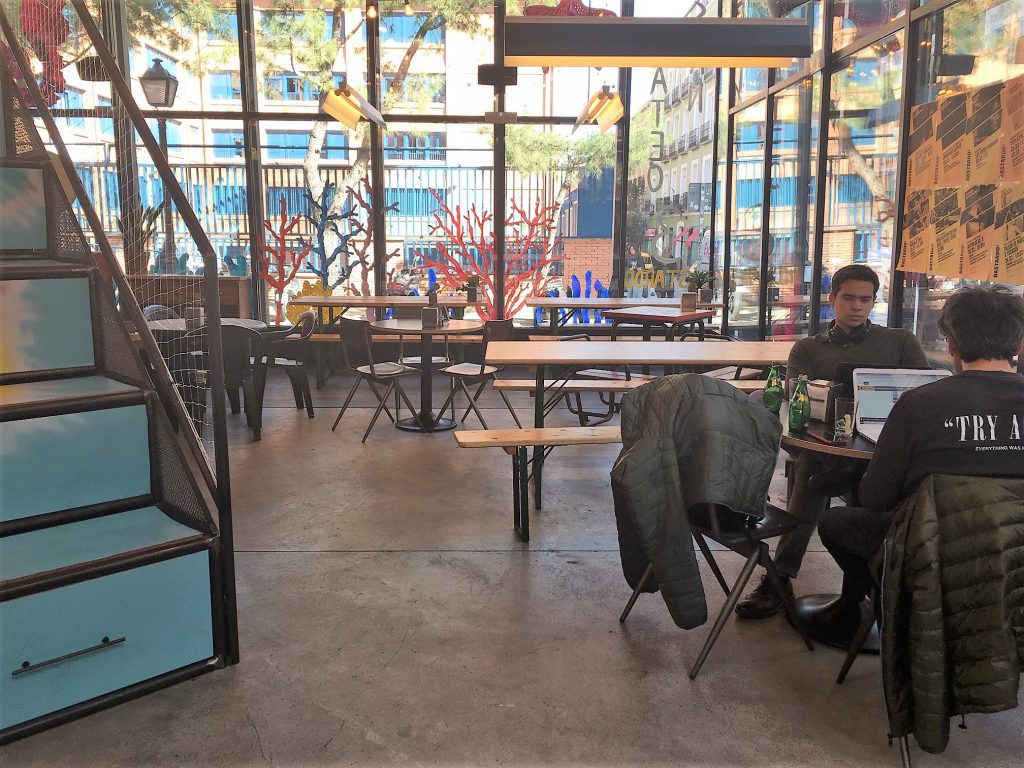 Bleacher: There is an area that can be of help if you are one of those who does not concentrate entirely on the places. It is the area of the bleacher where it has a peculiar space for you to be more concentrated and quiet. There is also light and you can also get to know the other side of our coolest hostel.
Food and drink are also a must. We know that you have to work and concentrate, but we do not want it to be a monotony but a very cool space for you to spend the hours flying without you noticing. That's why we offer you Limbo with a few dishes of death and where many of their meals are prepared live in an original handcrafted charcoal oven, as seen by diners.Besides, coworking is great as a center for your event or meeting if you need at any time. They usually have several spaces for you to choose the one that best suits you. In Bastardo you can also organize your event as our space is to be enjoyed in different ways.
Now you know bastards, you can find in our hostel a place to do your work without being uncomfortable or boring. What are you waiting for? For more information you can write us at hola@bastardohostel.com or call us at 682 519 535 and 918 193 798.
See you in your most Bastard blog!