The most bastard hall
27.11.18 / 09:41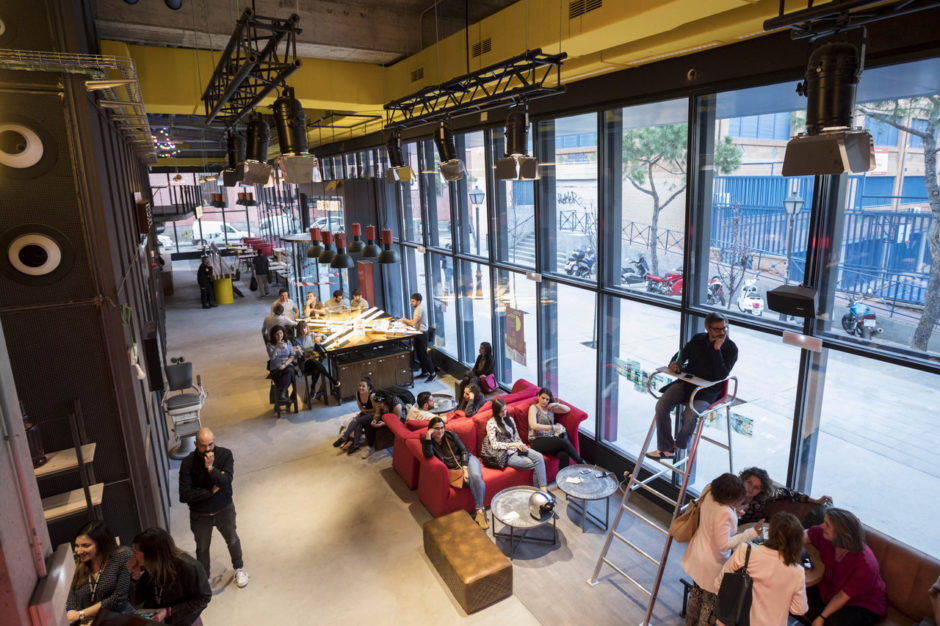 You arrive at San Mateo Street and there it is, our most bastard hostel in Madrid, unmistakable thanks to our large window that makes the whole street shine and fill with color. As soon as you enter, you will find the Bastardo heart, our hall, where all the magic happens. Spacious, luminous and full of life, it is our most multifacetic and special floor, because it represents everything that identifies us as a hostel and where the authentic bastard spirit lives. Whether you are passing through or staying in our rooms, our hall is the meeting point.
As you enter through our revolving door you will find the Limbo Grill on the right, a very particular restaurante from La Musa Group that will fool you with the smell of its star dish: roasted chicken. It offers a very special menu with authentic grilled wonders that you will love not only for the quality of its products, but also for its modern, spacious and bright decoration. In addition, they offer also breakfast and finger-licking brunch, with smoothies, natural juices, coffees and delicious desserts.
If you feel like just having a drink while working or hanging out with friends, on the left side is the bar  area. In this part of the hall you can enjoy the happy hour with more than twenty types of imported and craft beers, such as their own Pale Ale. And if you want to have an informal snack you have to try the different options they have because they are the perfect complement for a beer of this category. Time will fly by on the spacious wooden tables and comfortable sofas that have nothing to envy of Starbucks. The back of the bar has a seating tier fro 50 people and serves as an amphitheater with a fold-out screen from the ceiling for a space of presentations, seminars, film screening or football matches and even small concerts.
very bastards 
As we already said, it`s in our hall where all the magic happens, where you can really feel the experience of the coolest hostel in the capital. We are not just any hostel, things happen here and you can do much more than just sleep. If you are lucky you will coincide with one of our many events that take place in the lobby. When you are there, you will realize that our hall is perfect for all kinds of events, from poetry, theater, dance...etc. You will have no excuses to live the bastard spirit. If you prefer to go for a shot, we recommend that you take a look at our scheduling and you will surely find a plan that you like.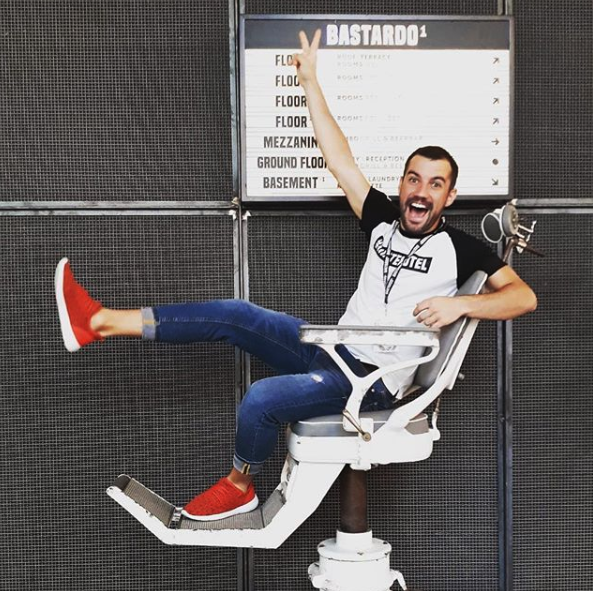 In addition, our hall cannot be more instagrammeable, your followers will envy you in every corner of it. Don´t miss the opportunity to have your picture taken in our famous iconic chair where many celebrities have passed through and posed for their social media. If you want to discover the rest of our hostel you are more than invited to our different floors through the elevator or the stairs that will take you to our famous laundry and kitchen, decorated with neon and wallpaper walls with our mantra #IHATESTANDARD. On the top floor is our roof terrace where you can sunbathe and enjoy the beautiful roofs of the city. Malasaña in one side, Chueca in the other.
We are sure that you will fall in love with our hostel and specially with our hall, because there are many hostels, but none as bastard as ours. If you want to live the real bastard experience, we have several types of rooms that are sure to suit your needs. And if you have any questions about the hall, our activities our any other queries, do not hesitate to contact our team of bastards through our mail: hola@bastardohostel.com or through our phones: (+34) 682 519 535 or (+34) 918 193 798.
Come in without knocking! See you in the most bastard blog!