Room 102: Hipatia of Alexandria
08.03.23 / 08:02
It's March! The year is passing us by at full speed and we're starting this month stronger than ever. But, above all, March 8th is International Women's Day and in Bastardo we are not left behind, but we join with a lot of actions and activities that you can enjoy this month.
We are a hostel open to new experiences and we always bet on culture because we want that you have a great time every week.
In addition, you can enjoy the coolest neighborhood of the capital, as there are some emblematic places you can go to visit as the Women's Bookstore located in Sol square or the statue of Julia in Malasaña, a tribute to women who could not study in the Pez Street, 42. Come and take a vindictive walk near our most bastard hostel where things always happen.
Hipatia of Alexandria: A science bastard 
Oh, we forgot: on the occasion of this feminist month, which is actually every day of the year, Hipatia of Alexandria is our March bastard as the date of her birth is commemorated on the same day. She is definitely an iconic character in this day of struggle for women and we pay tribute to her in room 102. Do you know her? This room shines like the stars that Hipatia observed and studied in 400 A.D. A character as interesting as our room.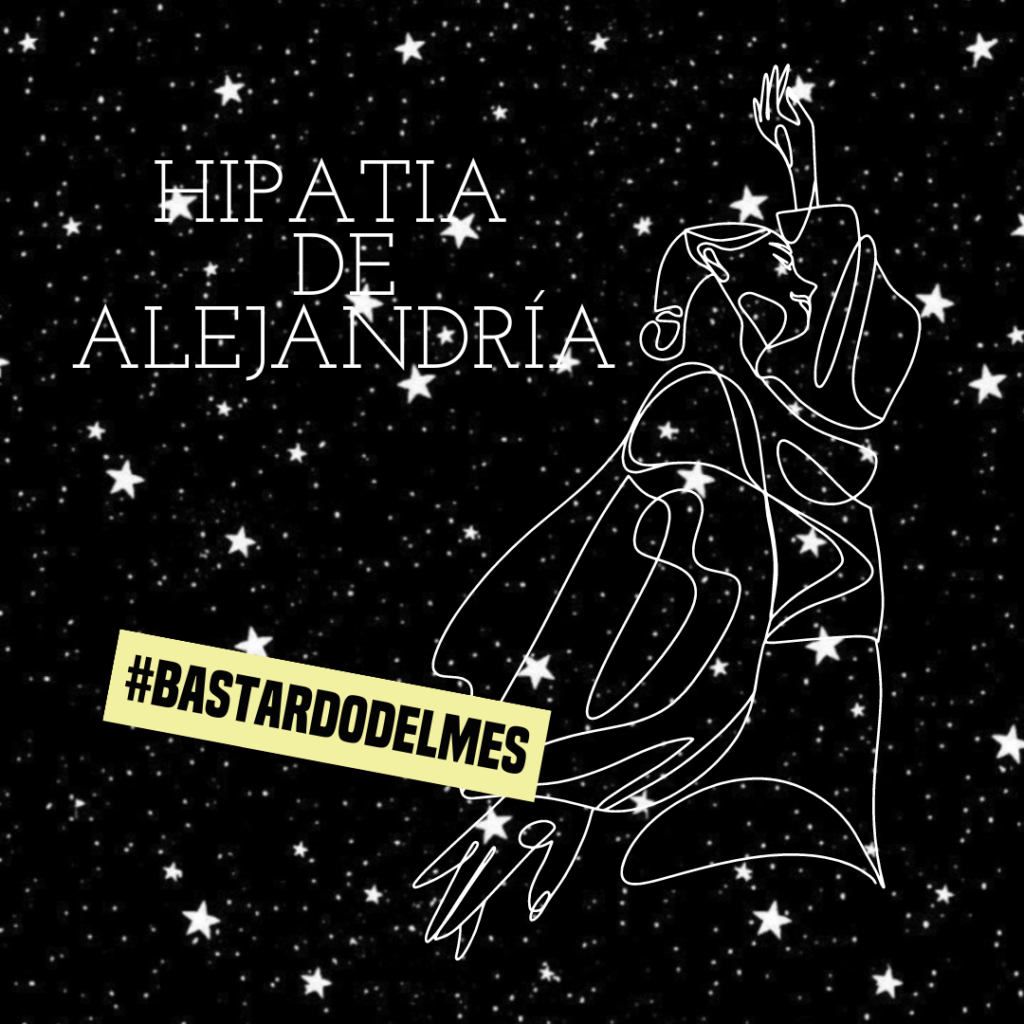 Hipatia de Alejandría
If an asteroid and a moon crater are named after you; if your influence on the history of human thought and scientific knowledge is still relevant more than 1600 years after your death; if you have achieved all of this although none of your works have been preserved, it means you have done things pretty well. Hypatia was a philosopher, an astronomer and a mathematician born in Alexandria in the 4th Century who dedicated her life to studying and teaching. She is considered a pioneer in the history of women in science. She was killed by an insane crowd of religious fanatics who, after undressing her, beat her with stones and tiles until they tore her apart. A martyr of science.
Room 102: A stay on the stars
A room with scientific and astronomical touches where you can spend a pleasant stay in the company of 6 people. You won't have to fight for who showers first because there are two magnificent showers that you can use without having to make a tremendous queue.
Just like Hipatia, the room is well studied and has the perfect measurements for you to enjoy one or several nights in the most bastard and coolest hostel in the capital. This is also a very special room, as it is one of the six rooms that is female bunk. You can come with your friends or book a trip on your own without any problem to spend some great days in the capital.
As we said before, you have a lot of plans to discover in Malasaña and Chueca. Don't hesitate to ask us about the different plans offered in the capital and remember that every week we transform the hostel into a theatre, a stage and even a gym.
Come to the most vindictive and transgressive hostel you will find in Madrid. If you are thinking of visiting the capital as a family or with your colleagues and want cheap, modern accommodation close to the centre, look no further because Bastardo is all you need.
You can contact us by e-mail: hola@bastardohostel.com or by telephone or Whatsapp: (+34) 682 519 535.
See you in the most bastard blog!