IDENTITIES / La Escena Roja
04.07.18 / 09:08
IDENTITIES in Bastardo
IDENTITIES! Are you unconventional? From new artistic, political, gender perspectives? Come as you wish!
On July 3rd, an unconventional theatrical proposal broke into the avant-garde artistic programme of Bastardo Hostel, the fashionable hostel between Malasaña and Chueca. With it, the theater came back to Bastard.
Bastardo welcomed the proposal of some shocking or absurd fragments, taken from the successful play IDENTITIES in the key of disconcerting poetic rap.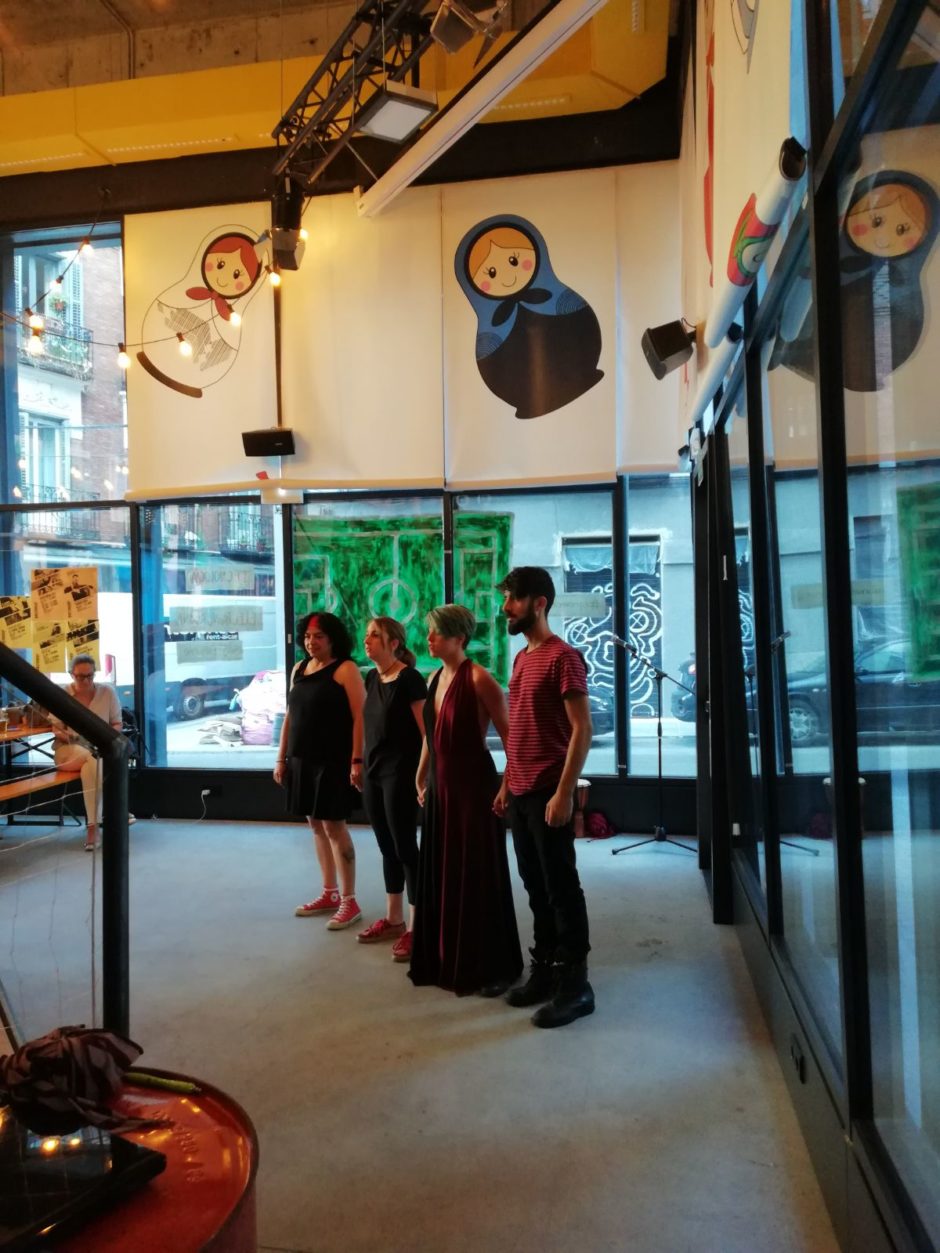 What is 'IDENTITIES'?
IDENTITIES' is an unconventional work based on a creative and collective laboratory, where fears, frustrations, disagreements, taboos, but also personal values and achievements are exhibited through different political, sexual, cultural, personal or national identities in a dynamic framework of different scenic languages, artistic disciplines and personalities are incessantly transmitted and promoted.
The Post-Drama Theater is a non-absolute, stylistic historical concept that attempts to describe a set of artistic expressions that have occurred in Europe since the 1960s to the present day. Post-dramatic theatre" goes beyond its state of literary autarchy to open up and dissolve itself in the fabric of the show, so that the profound meaning of the theatrical event is no longer placed in the text but is now moved into the whole of the staging.
Who are the artists in this post-dramatic play?
Cast: Nines Paniego, Eiden Tejón, María Rivas, Bru Santana
Playwright and stage director: Mercedes D. Ladrón de Guevara
Sound and scenic space: The Red Scene
Mercedes D. Ladrón de Guevara was born in Germany, where she began her career and cultural interest in post-dramatic theatre and avant-garde Germanic and Anglo-Saxon theatrical currents. In Spain, she trained as a performer, playwright and stage director mainly with Darío Facal, Gustavo Montes (award-winning playwright), Ángel Facio (former Literary and Directing Advisor of the Teatro Español), Vicente Fuentes (RESAD), among others, while successfully completing her university studies in Documentation Sciences (UCM).
In 2014 she successfully graduated from the Master in Theatre and Performing Arts at the Complutense University of Madrid, taught by doctors Javier Huerta Calvo, José Luis García Barrientos and Arno Gimber, among others. As stage director, she has staged "4.48 Psicosis" (2009) by Sara Kane; "Caresses" (2011) by Sergi Belbel and "Leoncio y Lena" (2014) by Georg Büchner, selected and sponsored by ITEM / UCM, among others. Particularly noteworthy is the great success of the ambitious project staged in 2015 "La mujer de antes" (Roland Schimmelpfennig), for its numerous awards, for the good reviews it has received and for its distribution in theatres belonging to Redescena, such as the Vicente Espinel Municipal Theatre in Ronda, as well as the media coverage in the province of Málaga. As a playwright, she organizes and directs the creative acting laboratory, on which she bases her playwriting IDENTITIES.
Thank you all for coming, the microtheater is an important part of Bastard and hopefully we can count on many more microtheater plays.
See you on Bastardo blog!