White Swan's Passage to Two
18.06.18 / 08:48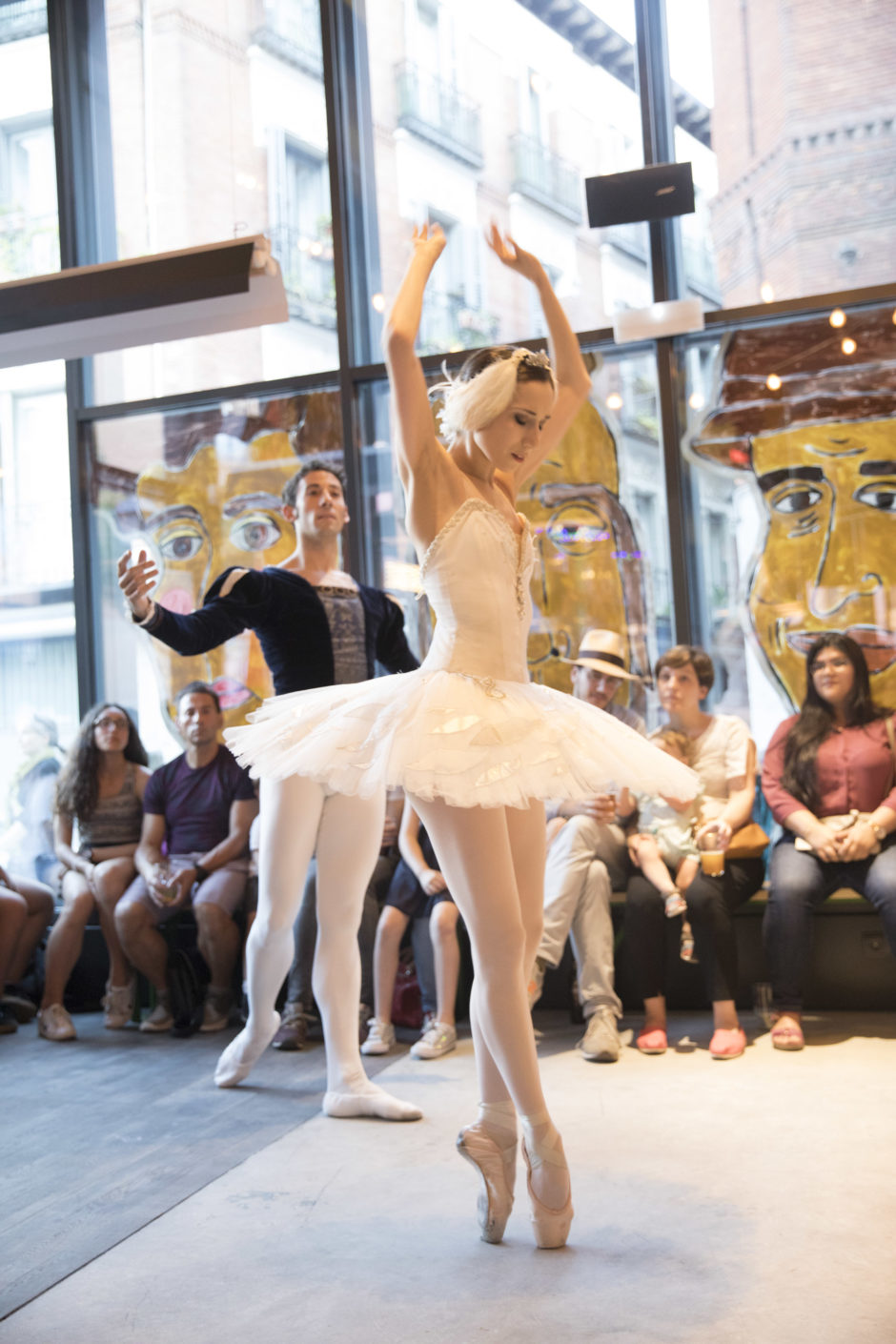 The dance comes to Bastard!
At Bastardo we like dancing and above all, we like being able to enjoy it, so last Saturday we had the great pleasure of enjoying the great classical ballet Swan Lake: the Swan's passage to two; and then, for some improvisation that moved us through space.Esteban Berlanga and Lucie Barthélémy, dancers from the National Dance Company, came to Bastardo to perform this piece of classical ballet, and a more improvised section. Their passion and professionalism allow them to investigate dance, to "tell" it on different stages and to reach out to people on the street, to casual spectators who do not expect to enjoy it in industrial, street and eclectic places. In this way, they open our eyes to see, from another perspective, a discipline that is mistakenly considered "for a few".Dance, whatever it is, is art if it is enjoyed.
What's this step about?
This step in two happens in the Second Act of the play The Swan Lake, when Siegfried observes ice cream as one of the swans he points his crossbow at, he becomes a beautiful maiden and princess named Odette. She tells him in terror that she is the swan queen, a victim of a terrible spell with her friends. The spell can only be broken if someone who has never loved before swears to love Odette always. They both fall in love, but as dawn breaks, the spell drags Odette back to the lake, turning her back into a white swan.
Who are Esteban Berlanga and Lucie Barthélémy?
Esteban is a principal dancer for the Compañía Nacional de Danza in Madrid, Spain. Born in Motilleja, a town of only 600 inhabitants near Albacete, he started dancing with the intention of becoming a flamenco dancer, as he didn't know classical ballet at that time. He began his studies at the Professional Conservatory of Music and Dance in Albacete at the age of 9. At 16 she moved to the Royal Professional Dance Conservatory in Madrid to join the Europa Danse dance group in 2003. Three years later, after winning the first prize of Castilla-La Mancha Dance, he joined the English National Ballet of London where he was promoted to First Artist of the Company in 2007, to soloist two years later, becoming First Soloist of the company in January 2012. He returned to Spain in September 2013 to join the National Dance Company as a Principal Dancer.
Lucie was born in Le Mans, France. She began her ballet studies at the National Conservatory of the Tours Region, finishing them in 2002 with the First Prize. He then entered the National Conservatory of Paris, where he worked with masters of the Paris Opera of the stature of Christa Charmolu, Claude de Vulpian and Cyril Atanassoff. In 2004 she was awarded the Dance Certificate with the First Prize and in 2005 she was awarded the Performance Certificate and then entered the Bavarian State Opera (Bayerisches Staatsballett) in Munich, under the direction of Ivan Liska. During these years, she danced important classical and neoclassical ballets and worked with great choreographers such as Jirí Kylián, Macs Ek, William Forsythe and john Neumeier. In September 2012 she joined the Compañía Nacional de Danza in Madrid and in 2016 she was promoted to the category of solo dancer.
Bastardo becomes a great dance floor
We don't want to make you envious, but we lived all this last Saturday, we are sure that we will repeat, because in Bastardo we love dance and we love being able to enjoy it in our hostel in the heart of Madrid.We'll see you next time!
See you on the Bastard blog!