Karaoke with Aguamarina de Octubre
#Date: May 18th
#Time: 21:30 h
We're back with the karaokes and the acoustics!
Every month we fill the coolest hostel in Madrid with music and the most varied repertoire in the form of karaoke. In May we have prepared a good party for you to sing. Our recommendation is that you go rehearsing to tune the voice because shame is not allowed in the most bastard karaoke in the capital.
Remember that if you have booked a room in our hotel, we have the most varied Happy Hour in Madrid to go refreshing the throat between songs. Do you dare to come?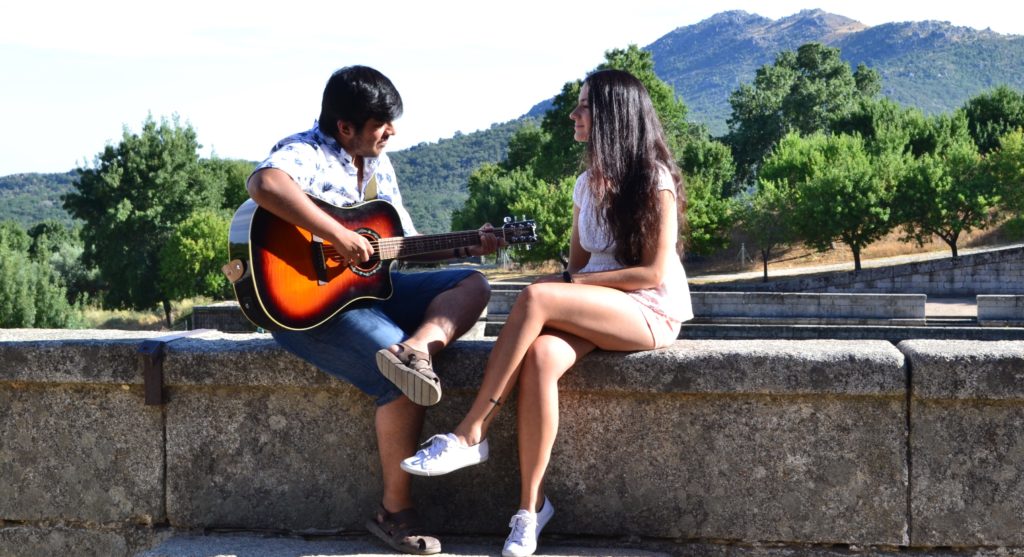 Who are 'Aguamarina'?
They are a group from Madrid with huge passion for music that began their artistic journey together in 2015, after merging their previous individual projects. With a pop-acoustic style, they create versions of current and classic themes, always adapted to their own style.
Pedro, a renowned singer-songwriter with a long musical career thanks to his participation in numerous concerts throughout the Community of Madrid, and the recording of EPs and singles, including his hits 'Sin ausencias', '31 de abril' and 'Susurros del mar', contributed his experience and made his extensive musical training available to the group. Chari, autodidact and passionate of the knowledge of the vocal technique and of the means of recording and musical edition, contributes the technical and logistic knowledge to take ahead this common project.
GuitarbarGuitarrabar
At present they base their musical activity on the recording of new songs for their publication and diffusion via digital platforms, as well as on live performances in concert halls and events of diverse nature.
The songs
English:
Oasis — Don't look back in anger
Jason Mraz
Colbie Caillat — Lucky
Ed Sheeran — Photograph
Ed Sheeran — Perfect
Ed Sheeran — Shape of you
Nickelback — Savin' me
Bryan Adams — Heaven
La La Land — City of stars
Craig David — 7 days
Christina Perri — Jar of hearts
James Arthur — Impossible
Dolly Parton — Jolene
Avenged Sevenfold — So far away
Lord Huron — The night we met
Spanish:
Bebo Valdés — Lágrimas negras
No puedo vivir sin ti (versión El canto del loco)
Alex Ubago and Amaia Montero — Sin miedo a nada
Aitana — Teléfono
Gian Marco — Hoy
Gian Marco — Canción de amor
Lucha de gigantes (Love of lesbian and Zahara)
Zahara — La gracia
La oreja de Van Gogh — Cuídate
La oreja de Van Gogh —Rosas
Amaral — Marta, Sebas, Guille y los demás
Amaral — El universo sobre mí
Pablo López — El patio
Ella baila sola — Lo echamos a suertes
You can go rehearsing with this playlist of our bastards karaokesPuedes ir ensayando con esta playlist de nuestros karaokes bastardos
https://open.spotify.com/user/24kxamnzsr3afubf2y2fu4ahv/playlist/23bAh4BfuvlN3OnOqWvwu6?si=WH8c9nKxRIaYOSGL2YaHughttps://open.spotify.com/user/24kxamnzsr3afubf2y2fu4ahv/playlist/23bAh4BfuvlN3OnOqWvwu6?si=WH8c9nKxRIaYOSGL2YaHug