The millennial hostel
20.09.22 / 14:00
Do you know what you get if you mix together the centre of Madrid, comfort at the best price and amazing events? It's the ideal combination of ingredients to create the perfect cocktail for millennials: our hostel!
Bastardo DNA
We want to get away from the typical things and expectations of what we're supposed to do. In Bastardo we not only embrace, but also celebrate what makes us different and unique. Is there anything more millennial than that? Well, yes,Instagram and TikTok, but we also have that covered.
https://www.instagram.com/p/BmShSzRFgr-/
Once you enter the hostel you realize it's not like the others. For example, our reception has no barriers separating employees from guests. This way everything feels closer. There are no keys either. The room is opened with a QR code that you carry on your mobile (if you prefer, we can print it). Entering the room, you'll see that it's quite modern and new, and if you are sharing, you can start talking with your new roommates. We have very friendly guests from all around the world! But the most famous space, at least on social media, is our laundry! We're going to let a picture speak for us in this one.
In addition to all that, we are located in the heart of Madrid, between Chueca and Malasaña, the most lively neighborhoods of the capital; around the corner of Tribunal & Alonso Martínez metro stops. They are full of young people, traditional and modern bars, and unique restaurants. No matter which street you walk, we're sure you'll find a special place that will become an unforgettable memory.
And to complement everything, we have our unique events. Every week we organize events that have become very popular among the people of Madrid. We usually do concerts with musicians of all genres, theatre, yoga, karaoke with live music, exhibitions, flea markets... In short, a load of plans that are perfect for when you get tired of walking around Madrid and want to relax for a while. Every week there is something different, so we recommend you take a look at our schedule. Also, remember that guests have offers in some drinks during the activities.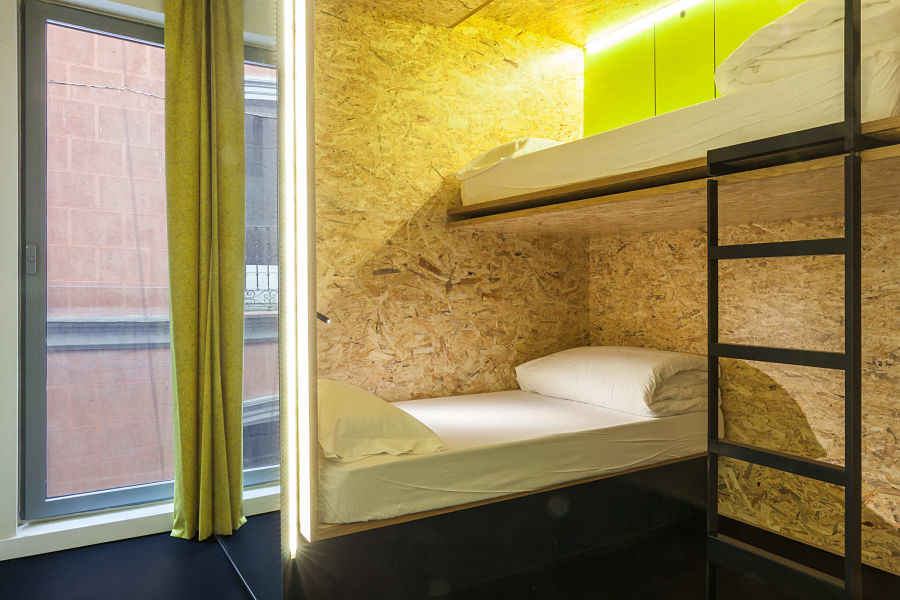 Rooms for everybody!
Before we talk about the variety of rooms we have, there's something we have to confirm: there are regular and USB plugs to connect your charger everywhere, and our WiFi is fast. Millennials aren't able to afford a house, but at least WiFi is going smoothly. We have to look on the bright side.We have bunk rooms for 4 and 6 people so you can come with a group of friends, if you have them. The rooms can be booked either for single beds or directly the whole room, for more privacy.One of the things our guests really appreciate is that, even if it's a shared room, the arrangement of the beds creates intimate and private spaces.
Another possibility are our double rooms and our double rooms with a terrace, perfect nests of love in the centre of the city. And if love has not yet happened, you can always opt for a twin room, which are also very affordable and accessible to wheelchairs.We have rooms for families of 3 or 4 people, with one double bed and single beds. And don't worry, if you're not a family and book one of these, we won't throw you out. Because families are not only born, but are also made. Or some poetic sentence like that. As we've said, this is not just any hostel.
It's a hostel by bastards, for bastards.