THE HOSTEL FOR FAMILIES
20.12.18 / 13:15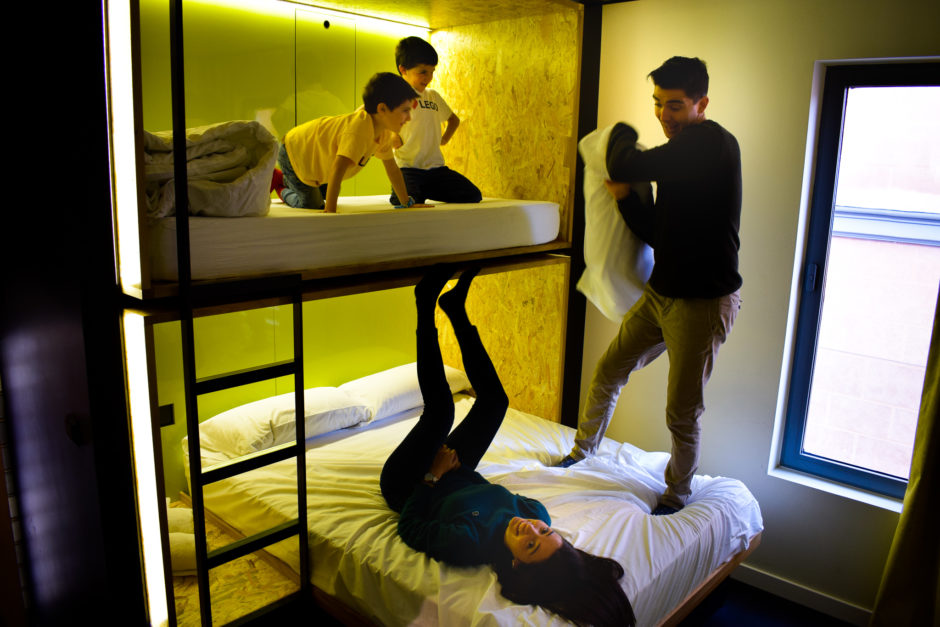 Don't be fooled, no more thinking that traveling in family is not cool. It´s super cool! (or don't you remember those holiday chapters in `Modern Family'?), the problem is that it is not always easy to find accommodation for everyone together that is also cheap and in the centre. At Bastardo we know this and that's why we tell you very clearly that we are your perfect option to travel with your family.Whether you're like the Trapp family or the Simpsons, it doesn't matter, because at Bastardo we have a room for you. Yes, our hostel will be your favorite place, here you will be better than at home. Gone is the conception that hostels are only cheap accommodation for young people and backpackers, from Bastardo we join the revolution of the term "hostel". Modern, cheap and near to the centre, anything else?Within our philosophy, we believe that there is no single type of traveler, so we offer different types of rooms to suit your needs. You can always choose an apartment or one of the thousands of hotels scattered throughout the city, but none combines comfort, price and avant-garde like Bastard. If you come as a family to Bastardo, you are in luck, because our hostel is designed for you. We'll explain the reasons:
Bastardo has a privileged location in the city, very close to the center and the appreciated Gran Vía, so we are the perfect option to stay and move around Madrid with children. Our hostel is located a few meters from the metro Tribunal which has an excellent connection with the most touristic points of the capital, both by metro and bus and walking, as we are just 10 minutes from the best places in Madrid.
We have two types of family rooms, either for three or four people, both spacious, bright and fully equipped to make you feel better than at home. Our hostel is family friendly, but if you have any doubts, we'll tell you why. The little ones of the house can enjoy our ample space to move with total freedom and, in addition, they will be able to enjoy our varied activities for children and families organized constantly in our hall. But let's get to the bottom line...
How are the family rooms in our hostel?
Rooms for 4
Our Familiar room for 4 is a shared space, yes, but in petit committee that rules much more and, in addition, are very functional rooms and decorated with much care. They have a very cozy space, with a bed of 150 cm and a bunk specifically thought for you to rest placidly to your air, the reduced places are finished.Each bed has a very spacious drawer to store the luggage and not have to carry it through the city. Instead of keys or cards, our rooms are accessed with a QR code via mobile phone, so don't worry, because both privacy and security in your room won't be a problem.
Rooms for 3
Three is a crowd? In Bastardo we also break with this conception. Finding a family room for 3 people can be a complicated task, but since #BastardoMadrid exists, it's over. The three is the cursed number of hotels, but we are not like the rest and that's why we wanted to rebel and offer this option for you to enjoy as a family. We adopted three as our lucky number.In our familiar of 3 you will be able to sleep like a bastard in family without problem nor you will have to worry about asking for the odious and uncomfortable supplementary beds. Nobody likes to sleep on a hard and uncomfortable mattress, but quiet, because this is not the case of Bastard's beds, here you will feel that you sleep between cottons. This room has a large, comfortable 150 cm bed and a single bunk bed. The family rooms for 3 are spacious and cozy, have a private bathroom fully equipped with large and warm towels and aminities to take care of your bodies.And if you are a big family, you can book a room of 6 for the whole family and be comfortable in the room.
Where things happen 
What makes us different from the rest of lodgings? You ask yourself. We are not a hotel, nor are we a hostel, but we are not a creative space either. We're all those things and so much more. Being in one of the most lively areas of the city (Malasaña and Chueca) and so close to the centre, our hostel could not be left behind.We are a space of creation and vanguard that offers activities and cultural and dynamic events that we are constantly updating. In our most bastard hostel of all Madrid there is a lot of life and we love to present in him different surprising and risky projects, because that is our philosophy.
We mentioned earlier that we are a very family friendly hostel. Why? Because in Bastardo, besides being a place to sleep, the little ones will be able to enjoy our program, as we offer activities and plans for children and the whole family so that the children can also live a very bastard experience. In addition to our succulent programming, our hostel also has a brewery where you can enjoy delicious snacks, vermouth and imported beers and the magnificent Limbo grill that will make your mouth water with its star dish: roasted chicken.Haven't we convinced you yet? Come and see for yourself, we assure you that you will fall in love, come with whomever you come. So you know, if you're looking for cheap accommodation for the whole family and in the city centre, look no further because Bastard is all you need.Likewise, if you have any questions about our family rooms or our activities, don't hesitate to ask our team of bastards who will be happy to help you. Please contact us by e-mail: hola@bastardohostel.com or by telephone or Whatsapp: 682 519 535 // 918 193 798.