Eszenit in Bastardo
21.09.18 / 09:00
Eszenit Festival
You know that in #BastardoMadrid we love festivals, so last Friday September 14, we hosted part of the programming of the Festival Eszenit on our rooftop while the afternoon fell on the sky of Madrid, and particularly our hostel.
What is the Eszenit Festival? 
ESZENIT is a multidisciplinary festival that aims to reconcile Madrid with its sky, assaulting the rooftops of the city to turn them into stages and open them to the community enjoyment of the live arts. Dance, poetry, music and painting in the heights. Birras and sunsets. The thing is to win a new facade for Madrid and for the arts -the celeste- and, of course, to come very high.After its presentation last year on the roof of the Palacio de Cibeles, this First Edition of the festival, entitled "Bodies of text", proposes a series of explosive encounters between body and word, a joint celebration of flesh, verb and presence, with Madrid and its sunsets as a backdrop. The festival was held for three consecutive Fridays in September, 14, 21 and 28 at the heights of Bastardo Hostel, CasaB and IED Carabanchel.
What do we live in the Eszenit Festival? 
Faithful to its objective of connecting collectives and artists with new spaces and audiences, the festival got off to a great start with an evening of contemporary dance, poetry and live painting, led by the dancer Verónica Garzón and two local collectives accustomed to working on the margins of the established, exploring and promoting new forms and means of expression: the Poetic Genome and Parsec!Verónica Garzón: dancer, choreographer and teacher trained in Spain, Germany and the USA in different styles and techniques such as classical, Spanish and modern dance, modern jazz, butoh, and contemporary dance, Verónica danced 'Las tormentas no duran toda la noche', a piece that plays masterfully with the internal rhythms of the body and external stimuli and inspired by her long study of butoh. The storm didn't last all night, but a sunset.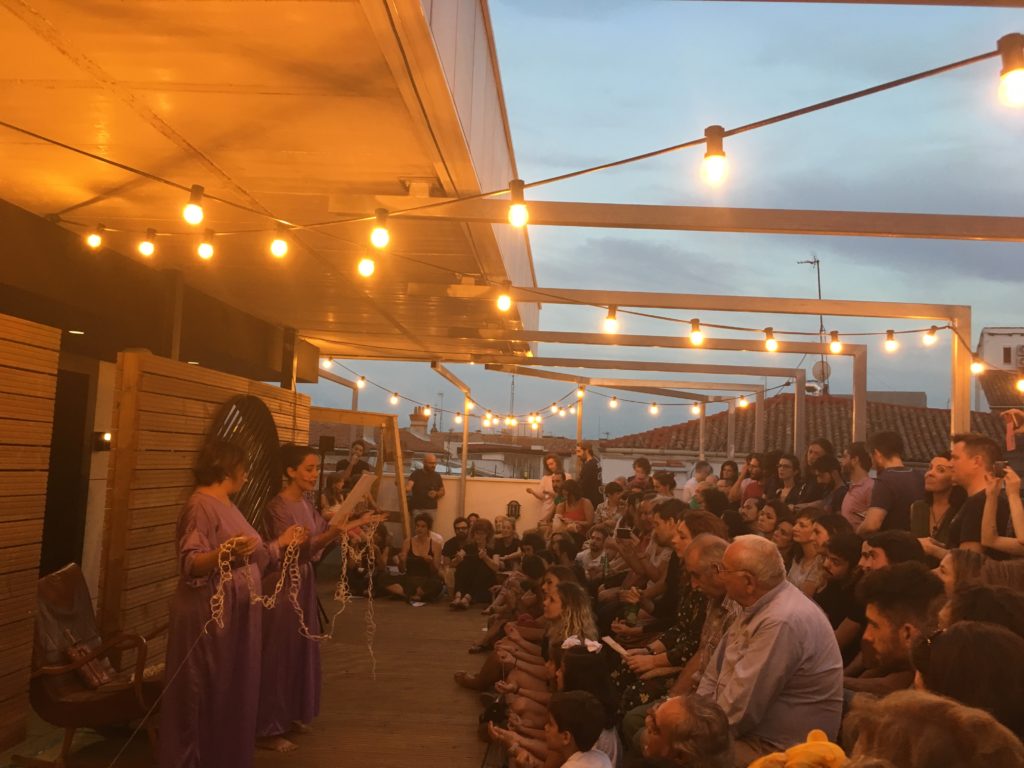 Genoma Poético is a collective and experimental project promoted by Quino Romero (graphic and creative designer) and Carlos G. Torrico (psychologist and teacher) that works with words as plastic, sound and textual material to develop proposals that always start from listening to plural and heterogeneous voices. At the inauguration of ESZENIT they climbed up to the roof to orchestrate a particular polyphony in which bodies and words danced equally. Good times for lyrics!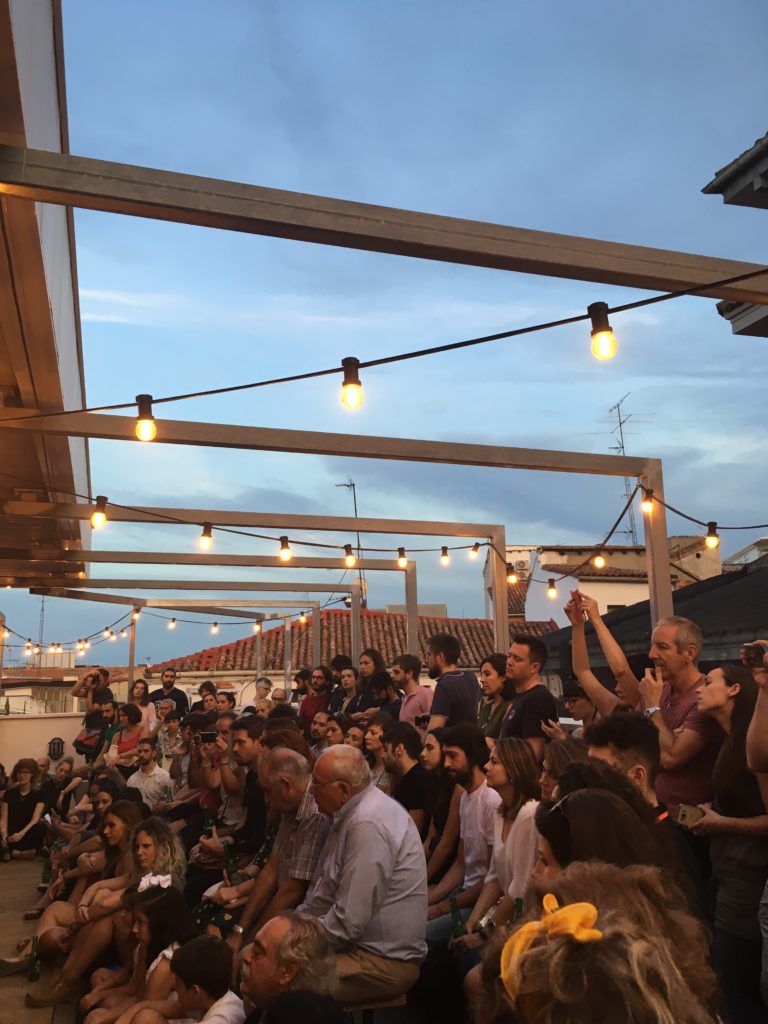 Parsec! is a street art collective that has been transforming the facade of Madrid since 2004, recycling waste materials and returning them to public space in the form of paintings and intervened objects. Its founder and main driving force, the artist, illustrator, comic illustrator and muralist Antonio Feliz, has also been filling the fields and ruins of rural Castile with colour for more than a decade with his amazing murals. On September 14 they colluded with the roofs of the city and the sunset to paint a canvas live.
From Bastardo we can only tell you that we spent a sunset of those who make history, full of art thanks to Eszenit. We ended up so exhausted that we had to go to sleep in one of the comfortable beds of our hostel in the heart of Madrid, so we assimilated everything lived.
Thanks Ezenit, you made us touch the sky!